2018 Year in Review: Highlight Video for Big Fans in Industrial Spaces
Big ceiling fans gained popularity for cooling and heating warehouse spaces in 2018. I wanted to take a moment to reflect on some of my top picks for MacroAir's best big fan installations in warehouses over this past year.
1. Ritual Brewing
Ritual Brewing Company is a craft beer company located in a spacious warehouse in Redlands, CA. They have the same challenges that any large industrial space deals with: no air circulation during the hot summer months. The solution for Ritual: the optimal airflow of MacroAir large industrial fans.
"If you're thinking about a big fan, it's got to be MacroAir. I wouldn't go with anyone else: state-of-the-art technology, very efficient, very nice people and easy to deal with. I just wouldn't go with anyone else". –Owen Williams, Owner, Ritual Brewery Company
2. thyssenkrupp Aerospace
thyssenkrupp Aerospace, a material supplier in Santa Fe Springs, California uses MacroAir's large ceiling fans as a key element to help create human comfort for the workers in their warehouse.
"Since the fans have been installed we get a lot more airflow. I'd say that I feel at least a 15 to 20-degree difference at times." – Brad Rice, Machine Operator, thyssenkrupp Aerospace
Challenges without MacroAir HVLS Fans in Warehouses
Limited Breathing Room: Issues with ventilation and poor air quality cause labored breathing and illness in employees that work in manufacturing and distribution centers. Poor warehouse air circulation can also cause product quality control risks such as spoilage, especially in storage spaces with high ceilings.
Don't Get Caught Slipping: Sweating slab syndrome, also known as SSS, is a condition where moisture builds up on the concrete slab floors that are found in many warehouse and industrial buildings. A smooth floor with moisture on it poses a threat to worker safety.
Less Isn't Always More: Small Industrial fans like an axial fan, centrifugal fan or an exhaust fan are the preferred solution for creating a comfortable work environment in manufacturing and distribution centers. The problem with these options is that it takes a lot of industrial floor fans to cool a large area. Small industrial fans also use a large amount of energy, which results in increased energy costs.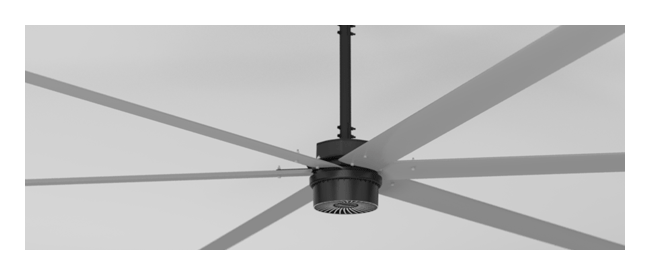 Benefits of MacroAir HVLS Fans in Warehouses
Evenly Circulate Air All Year Long: Evenly distribute cooler air during the hot summer months with the fan running in forward and move heated air during the winter with the fan running in reverse.
Cover a Large Area at a Low Cost: Because of the large circumference and specially designed large fan blades, a single MacroAir HVLS fan can cool approximately 22,000 square feet, compared to 34 small high-speed fans to get similar results. HVLS fans also are cheaper to run.
Even Out Temperatures: More effective for the evening out the temperatures in large buildings with palletized storage or racking compared to traditional small industrial fans, exhaust fans or HVAC systems alone.
Does your warehouse have any type of HVAC system, if so, does it distribute air evenly? Just leave a comment below.