2018 Year in Review: Best Automotive Applications
December has arrived and the finish line is in sight. Before you hang up our fans for another year, in order to celebrate the holidays, here's a little throwback to reflect on some of our successful installations of big fans in automotive centers. From heating an automotive space during winter in South Dakota to cooling down customers in a collision center in Philadelphia during summer, our MacroAir large fans have been able to change the way automotive repair shops run.
A Good Year for Cooling Down Automotive Spaces – 3D Bodyworks
3D Bodyworks in Philadelphia, PA, focuses less on merely the area where the vehicles are repaired and more on the people who work in the space. Large ceiling fans playing an integral part in bringing comfort to the employees.
Achieving the ideal temperature and creating better air quality for productivity in the workplace can be tricky. There is more to it than just raising or lowering the thermostat of your HVAC system.
"These fans make our 100 tons of A/C work much more effectively. They are truly awesome." – Dave Niestroy, Owner 3D Bodyworks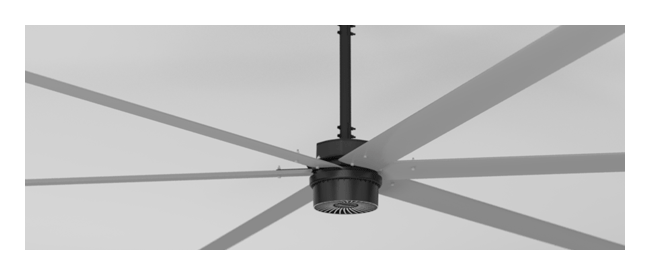 Let's Not Forget About Heating – Schulte Subaru
Schulte Subaru in Sioux Falls, SD is a 50,000 sq. ft. car dealership that sells and maintains quality Subaru vehicles. MacroAir big ceiling fans provide quality airflow and heat distribution for the space in ways you may not have thought possible.
The fans' reverse function heats up the dealership by pushing warm air provided by the building's heating system upward and outward, forcing the hot air to distribute down the building walls and evenly across the floor. The fans move the collected warm air, which provides a comfortable climate for the dealership's staff and customers.
Why Big Fans Work So Well for Automotive Spaces
Bigger Fans are Better: Big fans work compared to normal high-speed fans because of the large diameter fan blades (or airfoils). Big fans have longer and wider blades so that they can generate larger volumes of air that travel farther. This makes MacroAir big ceiling fans perfect for circulating air in large automotive spaces.
Safety First: The airflow created by big fans removes moisture from the air and makes the temperature of the air closer to the temperature of the concrete slab floor. This helps eliminate slipping hazards in automotive workspaces.
22,000 Square Feet, One Big Fan: It only takes one MacroAir HVLS fan to create balanced and comfortable airflow in large spaces with high ceilings (22,000 square feet), compared to 34 small fans to get similar results. Big ceiling fans also help bring energy efficiency to automotive spaces through supplementing HVAC systems. This provides energy savings by reducing cooling and heating energy costs.
Have you ever seen big fans in an automotive space? Did you feel the difference with the airflow? Just leave a comment below.