7 Factors to Consider Before Buying a Big Ceiling Fan for Your Gym
"How can I keep my gym cool and comfortable while still keeping my budget in check?"
We all know there is nothing worse than a gym with poor ventilation and air circulation. I mean, really, who wants to be in a hot, stuffy gym? NOBODY! Gym owners, one of your most critical goals is to keep your facility comfortable for your clientele. Keep them coming back. Hence, we are back to the above question…"How can I keep my gym cool and comfortable while still keeping my budget in check?" Your solution? HVLS gym ceiling fans.
Gyms all over the world could be enjoying the benefits of a big gym ceiling fan if they only knew a bit more about what these huge fans do and why they are so effective at helping create a comfortable space for working out. In this blog, we will dive into seven key factors to consider before buying a big ceiling fan for your gym.
1. Your Gym Space
Large gym fans can be placed in any fitness facility where there is a need for massive amounts of airflow and where the ceilings are at least 12 feet or higher. Some of the fitness spaces we typically see big fans used in include
CrossFit Gyms
MMA Gyms
Spin Class Gyms
Yoga Studios
Fitness Centers
Basketball Gyms
Boxing Gyms
This is only a brief list. There are many other spaces you can install industrial gym fans, depending on the specific fan you buy and the needs of the facility.
Consider your gym layout and the goals you are trying to achieve. It is smart to consider fan placement during the building process. You can actually plan placement around your AC ductwork - which is super smart to optimize airflow and harness the energy efficiency of your HVAC unit. But fear not if your facility is an existing structure. It is easy to add gym ceiling fans to any space!
Ask yourself some simple questions. Do you have an HVAC unit? Are the fans the only air movement you will have in your gym? What kind of environment am I trying to achieve? Gym ceiling fan companies, like MacroAir, have awesome customer care representatives that are happy to assist you through the planning process.
2. Will my customers like it?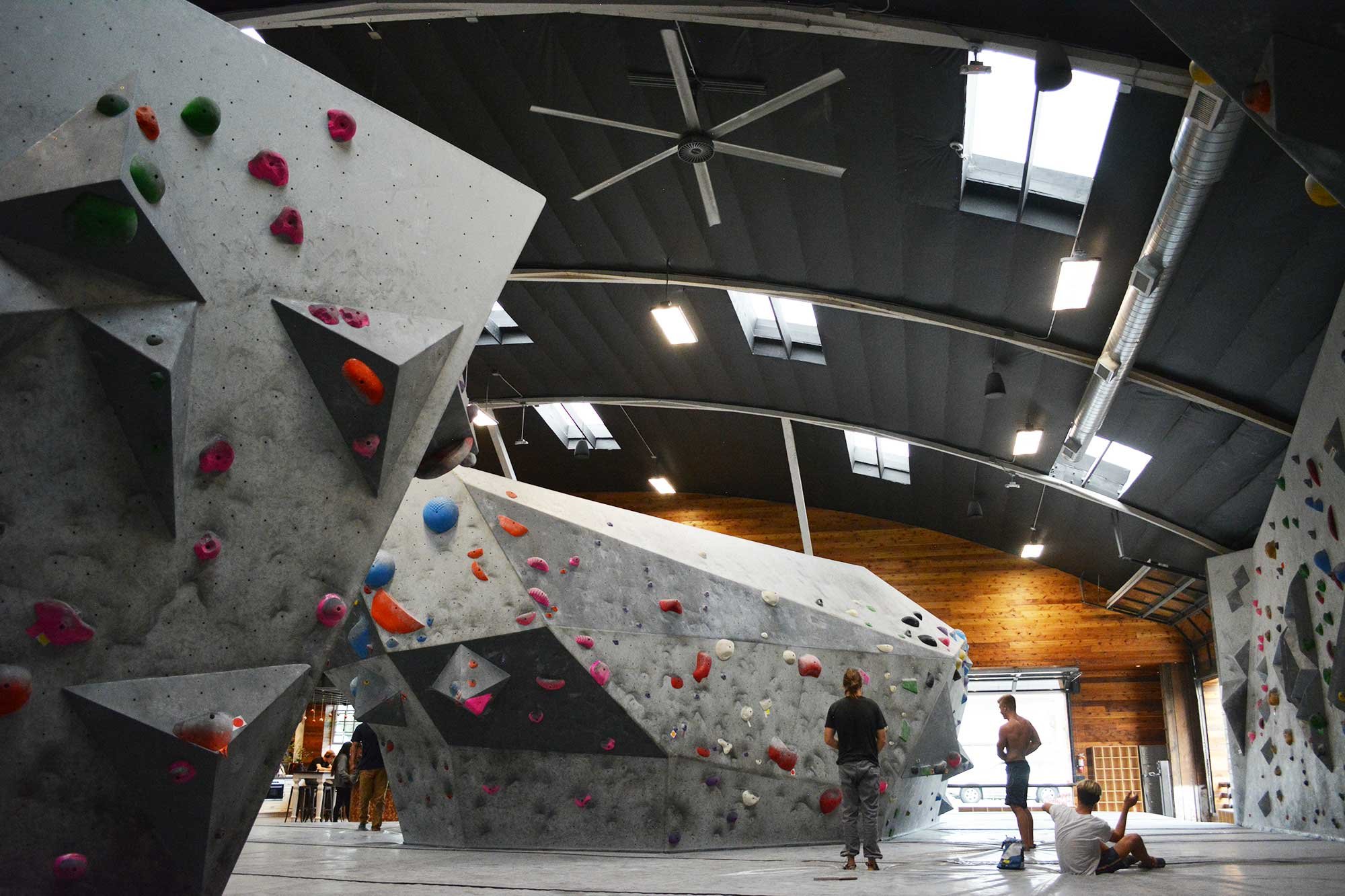 Ummm…YES, they will love it! Large gym ceiling fans actually reduce the perceived temperature in a room by up to 8°F. They create a cooling effect for your clients, leaving them feeling more comfortable as they get their sweat on!
These fans also complement the way humans naturally keep their bodies at a comfortable temperature. Through a process called evaporative cooling, the evaporation of the moisture (sweat) from your skin cools the body and prevents it from overheating by lowering the body temperature. Large commercial ceiling fans move a lot of air, which in turn helps speed this process up so that your gym members will experience a cooling effect, which brings relief to feelings of heat stress and humidity.
Another benefit of big ceiling fans is humidity control. If your fitness center or gym has an indoor pool, sauna, or locker rooms, you know that humidity, and its subsequent moisture build-up, is a real problem as it leads to mold and mildew. Mold spores float in the air; moisture-saturated surfaces are perfect breeding grounds — which is why it's important to maintain low humidity indoors. Because big ceiling fans help keep a constant temperature as well as continuously circulate fresh air, they help reduce the problems associated with humidity. So, you see, bigger fans really are better.
3. Are gym ceiling fans energy-efficient?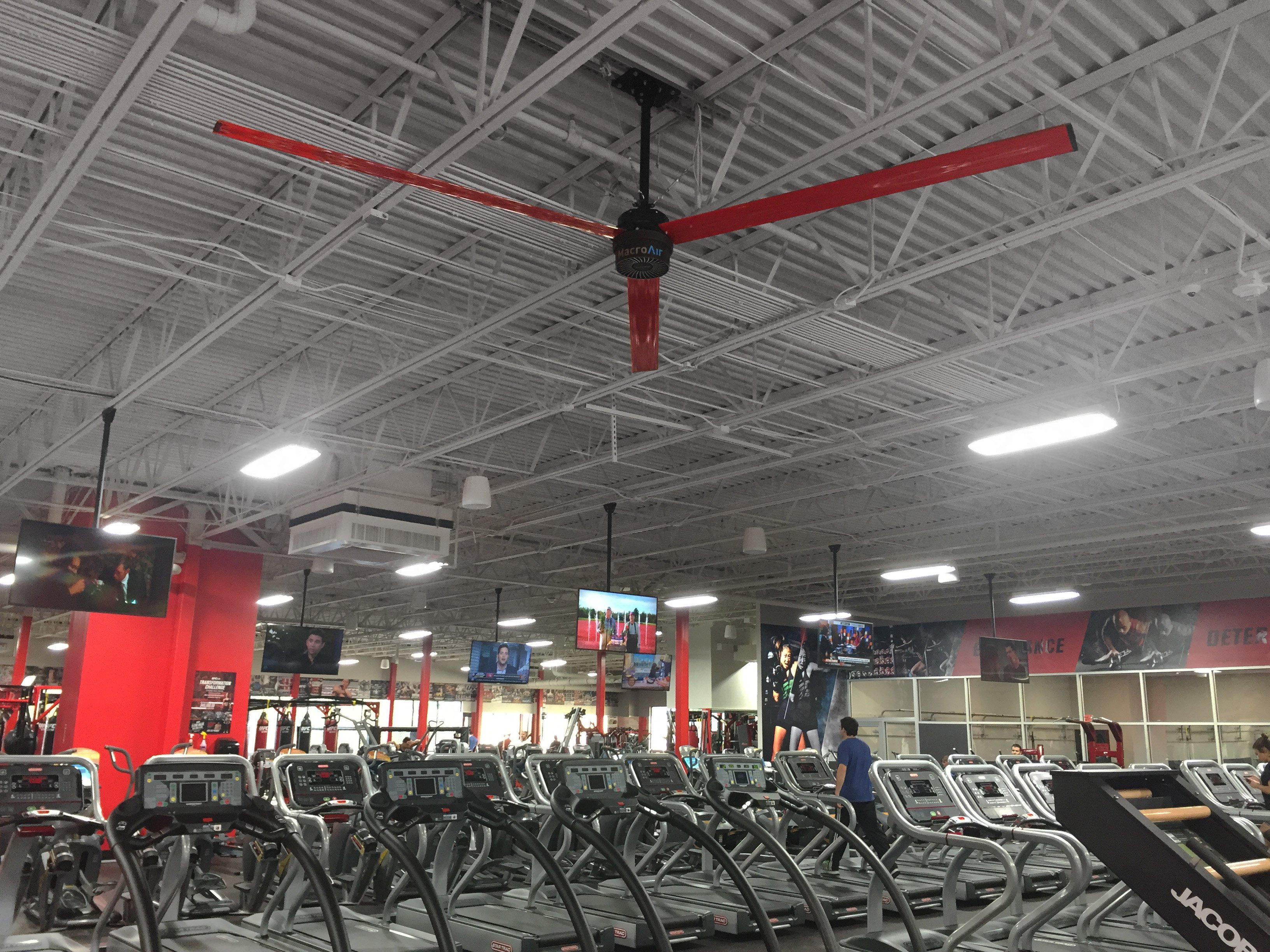 Large ceiling fans are a great option for fitness facilities that need energy-efficient cooling. The potential savings in energy costs are at the top of the list of benefits of utilizing large ceiling fans. A large gym fan creates a uniform air temperature. This means your gym's HVAC system doesn't have to work as hard to maintain your desired temperature.
"My energy bills were astronomical and once the fan went in, we turned off the air conditioning…and the first bill was cut in half." – Rachael Wilson, Owner & Trainer Bikecoach Fitness Studio
Gym ceiling fans work in tandem with your AC system as they push the cool air down and out along the floor — ensuring your entire facility remains cool, not just parts of it. Additionally, when you combine large ceiling fans with HVAC systems, you can get rid of unpleasant odors and provide your clients with a comfortable environment they were looking for when they joined your gym for a workout.
4. How many ceiling fans do I need?
One big ceiling fan can cool down a 20,000-square-foot fitness center. MacroAir's helpful customer care representatives can help you identify the specific needs of your gym. They will help you determine how many fans you need, where to place them for optimal performance, and what size would work best for your space.
HVLS gym ceiling fans work by moving high volumes of air at a low speed. This means that the people under the fans will enjoy gentle, but very effective, air movement throughout the entire room. Because of the larger circumference and the specially designed airfoils of large gym ceiling fans, it only takes one MacroAir fan to create balanced and comfortable airflow in a large area, compared to 34 smaller high-velocity fans to get similar results.
One huge factor that separates HVLS gym ceiling fans from normal fans is the size of their blades. Industrial gym fans have longer blades so that they can generate larger columns of air that travel farther and cover a larger area. This enables big gym fans to thoroughly circulate the air in gyms that have large open areas like CrossFit gyms or fitness centers.
If you are using other fans like smaller oscillating fans, box fans, or high-velocity floor fans, there are often cords running across the floor to the nearest power outlet. This can become a safety hazard for your gym clients, and it also takes away valuable square footage that could be used for exercise equipment. Furthermore, floor fans limit air movement directionally - and only seem to work effectively when you are standing right in front of them. That really isn't very practical for a busy gym with people constantly bustling about.

5. Is ceiling fan noise an issue?
One of the many benefits of using a big industrial gym fan is the extremely small amount of noise that it produces. Unlike HVAC systems and small industrial fans which require several noisy parts or a large motor for them to work effectively, big ceiling fans are built to improve airflow at a low speed, which in turn has a quieting effect while providing a high volume of airflow for the gyms they operate in.
MacroAir takes preventing noise in your space very seriously, which is why our HVLS gym ceiling fans are designed with specific parts that are chosen because they are as quiet as possible. Our direct drive line of fans was created with a gearless design that actually eliminates any noise from friction between gears. The direct drive models include the AVD3, AVDX, and the AVD370.
6. How much do gym ceiling fans cost?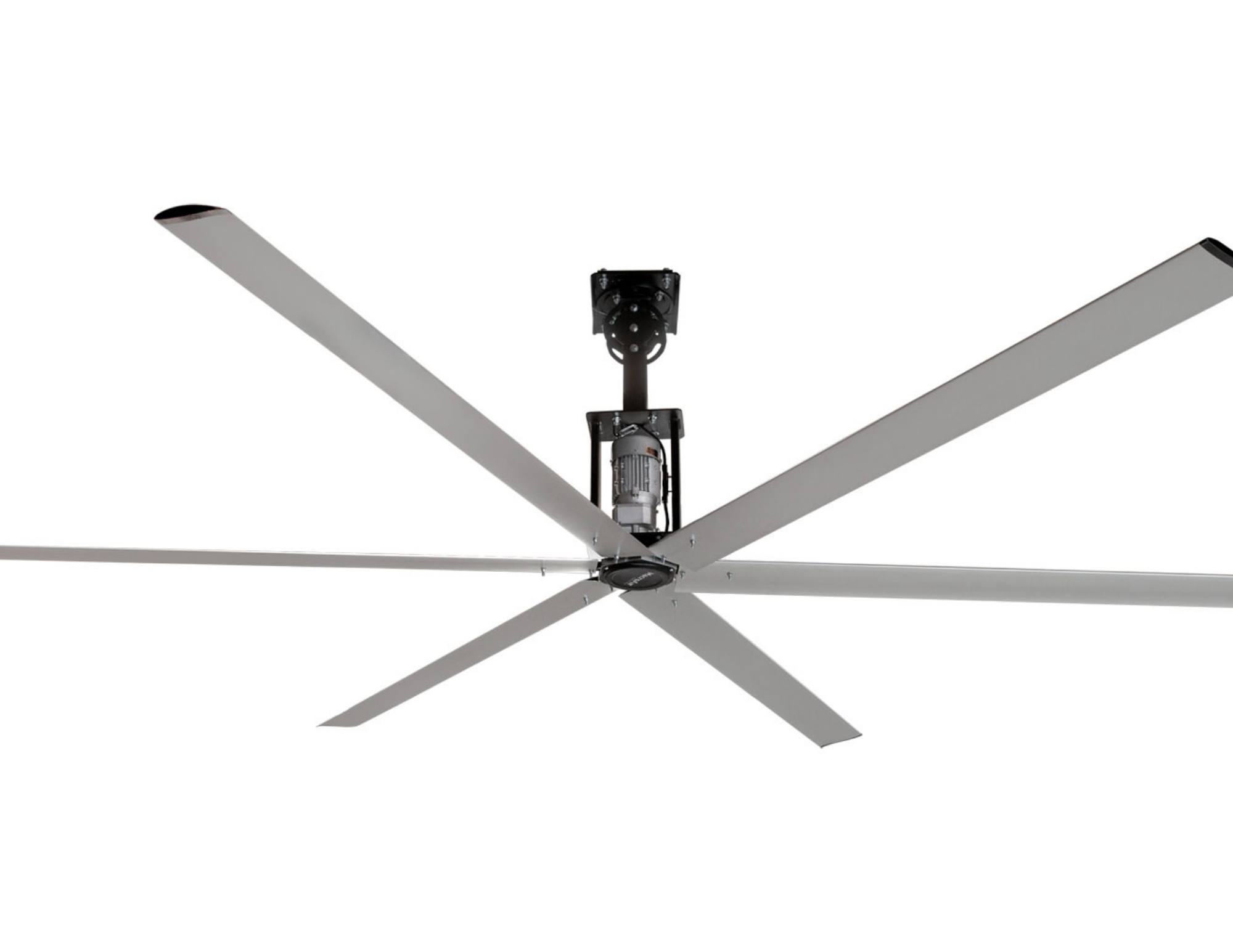 Cost depends on the fan. As is the case with most types of fitness equipment, there are many different manufacturers that create many different types of fans. A few things that impact the cost of a big gym fan:
Size
Number of blades
Remote control functionality
Customized features
You can expect to pay anywhere from around $2,000 to over $7,000 for a top-quality, reliable industrial gym fan. One great perk MacroAir offers is free shipping on all domestic orders. For more information on pricing, contact MacroAir.
7. Networking: Is there a connection?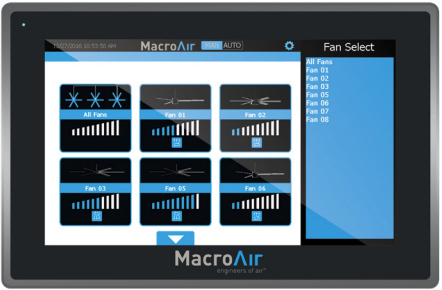 This is an important question for gym owners who already have an existing building management system or automated thermostat control system built into their gym. Big industrial fans are designed to integrate with your existing BMS, meaning you don't need to invest in a separate control system or expensive panel.
By integrating the big gym ceiling fans with your BMS, you can schedule the fans to operate at various times at different speeds across many locations in your facility. This automation can save on energy costs and time for you and your employees.
Reliability: Tried and True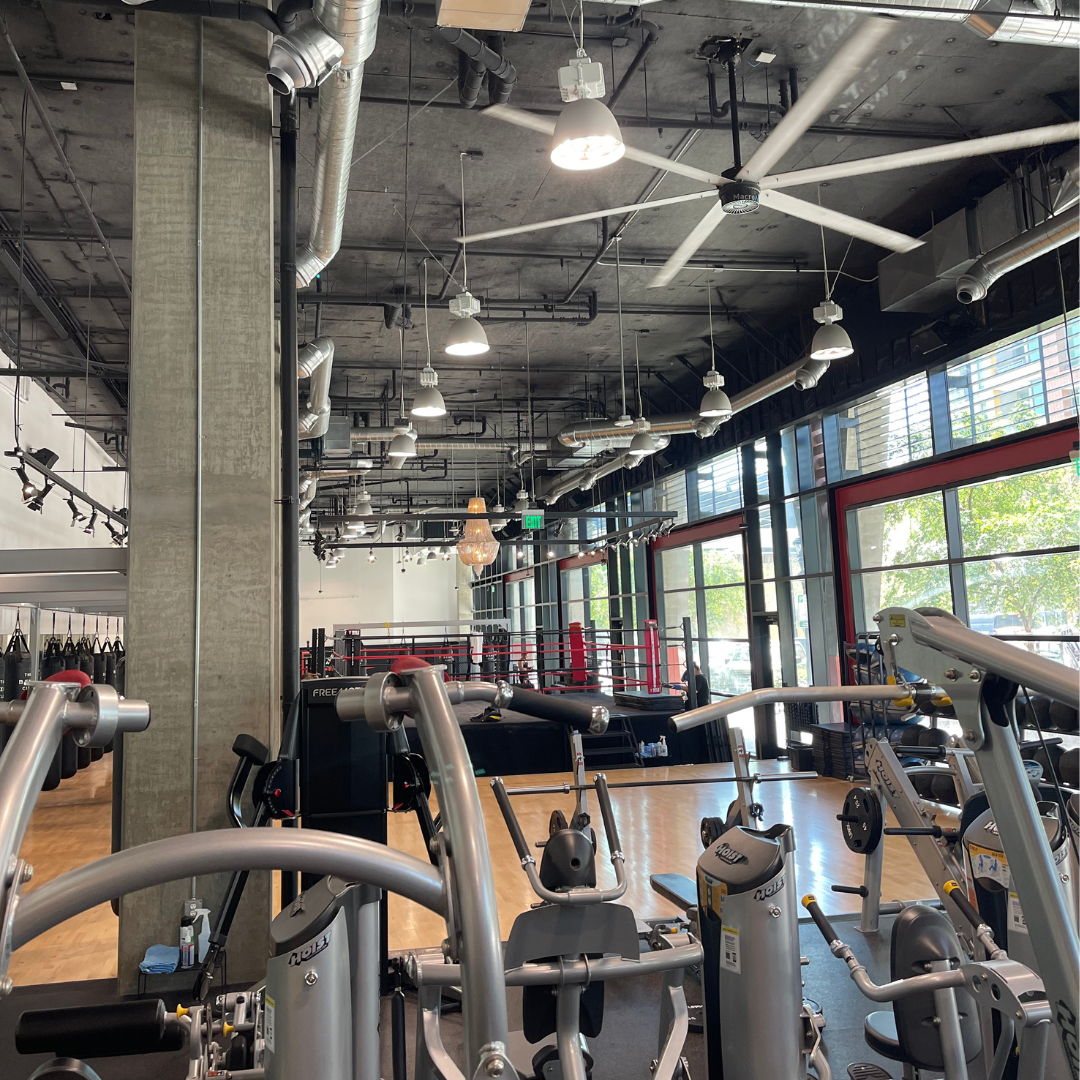 Like any piece of industrial equipment, there are a number of factors that go into determining how long a gym fan will last. Some manufacturers use lower-quality parts so that they can charge a cheaper price upfront, however, these fans probably won't last as long as the more expensive, higher-quality fans.
Large gym ceiling fans come with mechanical and electrical warranties. A reputable company will offer a substantial warranty if they believe in their product. The best gym fan warranties will cover your fan for years, or even decades, giving you confidence in the longevity of the fan.
Final Thoughts
Ditch the poor air circulation, reduce your energy costs, and give your customers a comfortable environment with a big gym ceiling fan. HVLS ceiling fans were invented by MacroAir founder, Walter Boyd, in 1998. From his innovative engineering, a new industry was born. Every other big ceiling fan currently on the market is based on his original designs. That is why MacroAir fans are the best in the world. From the use of only quality materials to the exceptional value of the fans, MacroAir is the optimal choice for air movement.
Learning the answers to common questions about big ceiling fans is a great way to begin your research. But as you move through and evaluate different big fans, you will need to get the answers to specific questions about how a big ceiling fan will work for the unique needs of your gym. Be sure to balance general research with your particular requirements so that you can get a better sense of which big fan is best for you.
To learn more about how MacroAir big ceiling fans can benefit your fitness center or gym, visit our industry-specific page all about the benefits of our fans in a fitness center or gym. Or, see our contact us page, where you can fill out a form, and one of our knowledgeable representatives will give you a call.
Visit our website today to find your fan.