MacroAir Controllers - Everything You Need to know to Run Your Fan
When you invest in an HVLS fan, you want to make sure it performs at its optimal level and is easy to figure out. It should not be rocket science! Knowing the options available to you and understanding the capability of your fan can make your fan work FOR YOU - not the other way around. One of the main things to understand is how to effectively operate your fan with ease, and that starts with the controller. The controller, simply put, is the device that communicates with your fan. MacroAir offers a variety of different options for network controllers and the tools needed to get you up and running properly and efficiently.
Depending on your facility and your needs and wants, there are a variety of controllers available. We know it can be daunting trying to figure out the differences between each of them, so in this blog, we will explain the different types of controllers available.
Controllers - At a Glance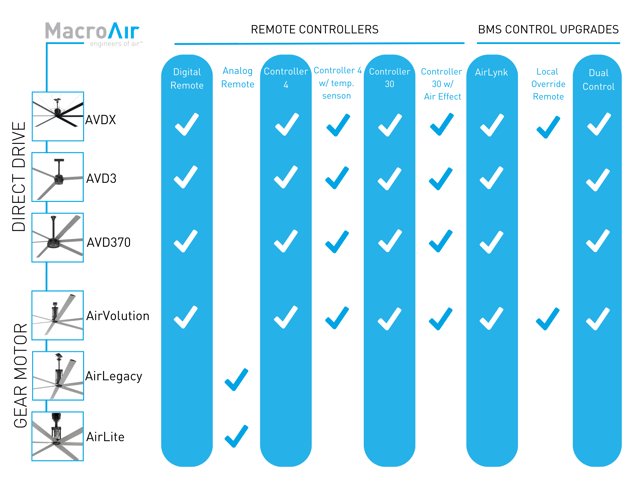 Types of Controllers
Digital Remote
The Digital Remote is the standard controller for all MacroAir fans except the AirLegacy and AirLite. It is compact, yet full of functionality. You can control the direction and speed of a fan with the touch of a button.
Features:
Comes standard with the
Mounted directly on the wall or the enclosure can be removed to sit flush with the wall
Controls one fan
Speed control from 0-100; controls fan direction and speed in 5% increments
IP40 (not good for damp applications)
Simple and intuitive controls with
On/off switch
Reverse and forward operation
Easy ground-level troubleshooting and diagnostics
Analog Remote
The Analog Remote is the standard controller for the MacroAir AirLegacy. It is a compact and simple controller perfect for our reliable and powerful utility fan. You can easily control the direction and speed of the fan with the switch or turn of a dial.
Features:
Standard with the
Controls one fan
IP65 (for use in damp environments)
Forward and reverse operation
Speed control with analog dial
Controller 4
The sleek Controller 4 allows individual control for up to four fans from a single location. This controller works with all MacroAir fan models except the AirLegacy. This one controller lets you control fan direction and speed for up to four fans individually.
Features:
Available upgrade for the
Controls up to 4 fans from a single point
Controls fans individually, independent of speed & direction
Simple and intuitive control
Temperature sensor (optional upgrade) starts and stops the fan(s)
Controller 30
The sophisticated, modern Controller 30 can control up to 30 fans. With the optional upgrade of AirEffect, you can automatically control fans based on the temperature and humidity within your facility.
Features:
Available upgrade for the
Provides a single point for individual or group fan control
Enables

Run time
Scheduling
Grouping
Fan naming

Secure remote login to controller via smart device or computer
Optional auto mode available with AirEffect (see below)
Password protection capabilities for scheduling, naming, and temperature/humidity (with upgrade to AirEffect)
AirEffect Temperature Control
The AirEffect is an optional upgrade. The AirEffect control system senses and automatically maintains the desired room temperature determined by the user. It works directly with the Controller 30 and only with the Controller 30. Simply setup AirEffect to the desired temperature range and enjoy a consistently comfortable environment.
AirEffect uses a pair of sensors to gauge the heat index by measuring the temperature and humidity at the ceiling and floor. Next, to achieve the desired temperature, AirEffect takes the heat index and calculates the fan's ideal operating speed and direction, and then runs the fans accordingly.
Features:
Available upgrade for the

Must be used in conjunction with Network Controller 30

Fans can be grouped into zones (up to 4 zones allowed on a single Controller 30)
Sensors to maintain the desired room temperature

Measurers temperature and humidity at two points (ceiling & floor)

Calculates heat index through temperature and humidity calculations

Runs fans in reverse or forward direction in response to the heat index

Independent, external sensors allow the controllers to be mounted in a different room than the fans and sensors
*Controller not included
AirLynk BMS Integration
AirLynk is suited where Building Management Systems (BMS) are in place. AirLynk offers complete BMS integration. It can be used as a stand-alone or paired with a Dual Control Enabled Controller 30 (see Dual Control section) or with the Local Override Remote for some fan models (see Local Override section).
AirLynk gives the ability to control your fans through BACnet® (MS/TP or IP). It basically acts as a gateway between the building (BMS) and your fan network.
BACnet is a protocol used to automate or manage a building system (commonly called a BMS or BAS). Our fans use Modbus to communicate with MacroAir's interface and allow the integration of our fans into the BMS/BAS. The BMS/BAS then enables the fans to run in conjunction with your HVAC system to help save energy costs.
Successful integration of any MacroAir fan with a BMS/BAS is dependent upon the following guidelines:
Identify the BMS and its protocol before the purchase order is placed. This allows the fans to be pre-programmed, which dramatically reduces installation errors and integration time.

Strictly adhere to the included installation manual to eliminate issues that will occur from wrong types of wire, improper wire terminations, or wire routing.

We highly recommend having our Controls Engineers visit your site for fan start-up to ensure a smooth and successful integration. Many outside installers are unfamiliar with the subtle, but critical, differences between BMS systems, interfaces, fan models, connection methods, and best practices. For a nominal fee plus travel expenses, one of our Controls Engineers can be on-site to ensure a smooth and successful start-up. For more information about this service, please contact our Field Service Department at fs@macroairfans.com.
To Order AirLynk please take the following actions:
Local Override Remote for BMS Integration

The Local Override Remote allows the user to override the BMS to control a fan whenever needed. The Local Override Remote is to be integrated with the Building Management System. It provides an enclosed PLC with analog speed and direction control at the occupant level.
When the user selects FWD or REV mode, the fan accepts speed commands from the local user. Users can also use the local override to command the fan to do whatever is needed at any time.
Features:
The Local Override Remote can be used for the

Each fan requiring local override controls will require its own enclosed PLC

Auto Mode - which allows the fan to receive commands from the BMS

This feature only works on all the above-listed models

You can add one controller to each fan - and as many as you want or need

Analog controller

Knob for speed

Knob for direction (forward and reverse and back to building mode)

Must have AirLynk (one for up to 30 fans)

Not password protected
Dual Control for BMS Integration
Dual Control is password protected and perfect for large facilities needing temporary fan control. The interface is identical to that of the Controller 30 and can provide local control to up to 30 fans. It is important to note that Dual Control must be programmed onto the Controller 30 before implementation.
Dual Control allows local override of the BMS so you can control a single fan whenever needed (just like the Local Override remote). The difference with the Dual Control is that the user's control over the BMS is temporary. The override only lasts until the BMS overrides it with its next scheduled command.
Features
Dual Control can be used for the

Allows up to two Controller 30 screens to be locally controlled

Seamless integration of your Building Management System and local fan network

Fans take the last known command, be it from the BMS, the Dual Control enabled Network

Controller 30 screen(s), or VNC enabled smart devices

Provides a single point of local control of up to 30 fans

Enables grouping and fan naming

Password protection capabilities for operation, naming, and grouping

Requires AirLynk (BacNet)

Enabled Controller 30*
*AirEffect is not compatible with Dual Control. Temperature monitoring by BMS can regulate fan operation. Run time scheduling is disabled on the Dual Control Enabled Controller 30, as BMS should be set up to maintain fan schedule.
Closing
With all the controller options available, we hope this leaves you more informed about your choices. Consider the needs of your facility, and select the best network controller for you. Please know that MacroAir representatives are available to help at any point in your selection process. We will answer any questions you have to ensure you get exactly what you want in your HVLS fan and network controller. Our number one goal is to take care of you!