How to Improve Indoor Air Quality in Gyms
Many gyms are starting to open up. For those of us who work out, this is excellent news. But you may have the same question as I do: Should I go to the gym right now?
This question mainly stems from worrying about how a virus is carried through respiratory droplets through the air in confined and open spaces.
Other questions people are asking:
How safe are gyms?
Am I putting my health at risk returning to the gym?
Is the gym's air quality safe?
Are there mandated gym-cleaning standards?
What will the gym temperature be?
How good is the gym's ventilation?
These are valid questions as we are all worried about the air quality and how it affects our health and those around us. Because of social distancing, many of us set up a home gym or took our exercise outside. Let's face it; we are ready to get back to a new normal of living.
If your customers are cool and feel safe during their workout, they will stay longer and frequent fitness facilities more often. Commercial ceiling fans, when used alongside an HVAC system, are the best way to lower the body temperature in a gym. A ceiling fan in your gym will provide fresh air directly to your customers and will circulate stale air, airborne dust, and most particulate matter away. HVLS ceiling fans provide a better, safer user experience.
Learn more about how MacroAir ceiling fans can keep your customers safe and cool during their workout sessions.
Helping Your Customers Feel Safe in Your Gym
As a gym owner or manager, you want your people to feel safe in your facility. Air pollution and poor indoor air quality have been linked to higher rates of illness long before COVID-19. But with the coronavirus pandemic, the need for air quality and airflow in a gym is critical.
Fitness facilities and workout spaces come with their fair share of sweat, heat, bad odors, and stagnant air, especially in enclosed indoor gyms. While we can smell bad odors, we cannot see air particles or indoor air pollutants.
Large commercial ceiling fans provide a feeling of outdoor air and relief from the uncomfortable air quality that typically plagues indoor gyms with poor air quality and ventilation. Through the optimal airflow created by large commercial ceiling fans, a gym space can feel much more like the outdoors rather than a tight, uncomfortable space.
According to the CDC, and the American Lung Association, ventilation is encouraged in all facilities to help reduce contaminated and humid air that can cause mold. When there is less contaminated air, there are fewer chances of bacteria, viruses, and other air pollutants. The lack of ventilation and proper airflow can affect how infectious diseases are spread and how quickly.
The Value of a Ceiling Fan Alongside an HVAC System
HVAC systems play a massive role in keeping us warm in cold weather and cooler in warmer temperatures. During a workout, we don't want to be too cold or too hot. Most indoor gyms utilize air conditioning as a way to keep their customers comfortable. However, according to the EPA, air conditioning alone does not bring fresh air into a facility or home.
Proper ventilation requires you to open doors and windows, utilize attic fans or window air conditioning units with the vent open, and use a ceiling fan to increase outdoor ventilation.
HVLS fans play a critical role in helping people stay safe and healthy in gyms—by circulating the air, elevating airspeeds, and reducing humidity.
Air circulation
Mixes trapped warm air from the ceiling with the cooler air below, helping to keep everyone comfortable
Leads to more effective removal of pollutants and airborne particles
Elevated airspeeds
Decrease the transmission of airborne disease by reducing moisture accumulation that spreads germs and bacteria
Improve air quality by reducing airborne dust mites and allergens that can lead to respiratory problems
Make it more difficult for contaminated droplets to find a path to uninfected people
Reduced Humidity
Reduces the likelihood of mold spores damaging products and equipment

Decreases the chances of slipping hazards
A Few Words from One of Our Biggest Fans –
At Vital Climbing Gym, in Oceanside CA, climbing is the extreme workout of choice for its members. This indoor gym has all the right equipment to get the job done, including MacroAir's large commercial ceiling fans.
"We want the indoor quality of air and experience of the workout to mimic the outdoors. We also want the climber to feel fresh. A little sweat is good, but the fans cool our climbers off like natural bodies would outside."

"We actually run the fans 24/7 when temperatures are hot."

Parker Young – Vital Climbing Gym
Learn more about Vital Climbing Gym and how MacroAir provided solutions.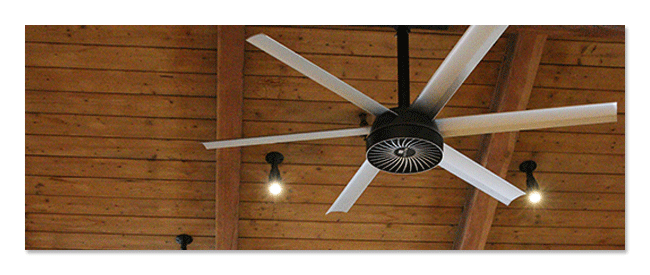 GO BIG OR GO HOME
When doing an extreme workout, efficiency is the most important factor if you want to get the best results. The same is true when using small fans compared to large commercial ceiling fans to increase comfort and air quality for your large gym.
Using large commercial HVLS fans instead of many smaller, faster fans is the most efficient way to increase comfort in your large gym. Because of the optimal air movement created by large commercial fans, it takes up to 34 small fans to match the airflow output of one big commercial fan.
The more energy a fan uses, the higher your utility bills will be each month. Large commercial ceiling fans are designed to produce a high volume of air and run at a low speed. This optimal speed allows for the fans to be run consistently while consuming less energy than traditional small fans and increasing comfort for your members.
For smaller spaces, MacroAir offers the AirVolution-D 370 big commercial ceiling fan. The AirVolution-D 370 is ideal for indoor and outdoor spaces with ceilings under 12 feet. When you need an airflow solution that looks sleek with any décor, this is one of the best cooling solutions for your space. Check out the AVD 370 to see the many options available.
RUN THE EXTRA MILE WITH AN HVLS CEILING FAN
MacroAir large commercial fans — the ideal solution for any workout space where the movement of large amounts of air is necessary to achieve the best results.
Learn more about how our commercial ceiling fans can positively affect your large workout space.
Not Sure What Fan You Need?