The Best vs. the Worst HVLS Fans on the Market
High volume, low speed (HVLS) fans provide many benefits for their users. But as you probably know, it can be difficult to fully understand which type of fan is best. From varying sizes to different airfoil shapes and safety characteristics, it's often hard to know what to look for in an HVLS fan, especially if you're new to them.
There are some good traits and some bad traits in HVLS fans. The best fans have a larger number of desirable characteristics. On the other hand, the worst fans have negative traits that buyers look to avoid.
Traits of the Best HVLS Fans
Top-notch performance

To put it bluntly, your HVLS fan should move an insane amount of air. Performance is dictated by key indicators. First, the quality and HP of the motor. Also, the type of motor - gear driven or direct drive. Besides the motor, you should consider the speed at which the fan is operating, the diameter of the blades, and the shape of the blades. MacroAir invented a NASA-inspired airfoil blade shape that helps to effectively move the air precisely throughout the space.

Good return on investment




There's a big difference between price and return on investment. Don't make the mistake of forgetting to factor in long-term expenses when thinking about what makes up the cost of your HVLS fan; items like energy use and construction quality.

A long warranty




A longer warranty is a sign that a manufacturer has confidence in the products that they are offering. The longer your warranty is, the less money you'll end up paying in repair and maintenance.

Lightweight construction

A heavier fan generally requires more energy to operate, meaning higher costs. Also, heavy fans place more of a strain on the infrastructure of your building than lighter fans do and contribute to increased freight charges due to higher weight. An HVLS fan with lightweight construction will lower your costs from shipping to monthly energy bills. You will find the weight listed on all HVLS fan specification sheets. Spec sheets should easily be found on the manufacturer's website.

Quiet operation




Noise in the workplace can be distracting, and in the worst cases, it may cause permanent damage to your hearing. A great HVLS fan is one that operates with as little noise as possible; only the breeze itself. Decibel ratings can also be found on fan specification sheets.
Traits of the Worst HVLS Fans
Poor performance efficiency

Bad HVLS fans require a lot of energy to generate a relatively small amount of airflow, which means you will spend more money on poor performance with an inefficient fan. The weight of a fan can impact the price of the installation as well; heavy fans require more manpower and cause more wear and tear on the motor. This all ends up eating into the bottom line. Also, it's always a good idea to make sure the manufacturer you are considering provides performance numbers such as RPM and CFM. You may not be able to find the CFM on an HVLS fan, as they are too big to calculate accurately at this time.

Short operating life

The best quality HVLS fans can last for upwards of two decades: and are warrantied for up to 50,000 hours, the equivalent of 24 years. In contrast, the worst HVLS fans are the opposite: you won't be able to use them very long before they need to be replaced.

Inferior construction

Some fan manufacturers earn business primarily through price. They use low-quality materials that are put together shoddily and then sell them at a lower price than better fans on the market. These are the types of fans that you want to avoid. Do your research!

Complicated installation

The installation of your HVLS fan can be time-consuming and costly, especially if you are purchasing a large number of them at once. An HVLS fan that is complicated to install or doesn't have sufficient documentation could lead to problems down the road if it turns out that you didn't install the fan properly. The weight of a fan can impact the price of the installation as well; heavy fans require more manpower, which ends up eating into the bottom line.

Complicated warranty

A warranty that doesn't cover parts and labor can potentially cost you quite a bit of money. If you have a fan with cheap parts, complicated installation or poor efficiency and performance, not having a warranty that includes parts and labor can be costly.
The Bottom Line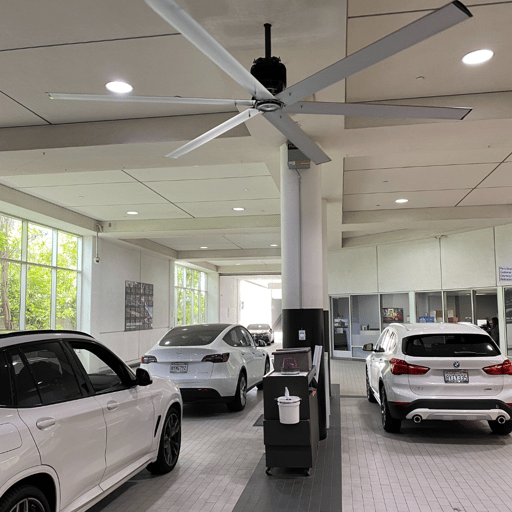 Once you have decided on using an HVLS fan to move air in your facility, your job isn't over. It's important to know what you should be looking for when choosing an HVLS fan. This understanding will help you make the best decision. Your due diligence and selecting both the best HVLS fan brand and the best HVLS fan model for your needs are imperative.
About MacroAir
MacroAir invented the High Volume, Low Speed (HVLS) industrial ceiling fan. They have continued to be a leader in the HVLS market by developing the most innovative large fans in the world. They continually strive to push boundaries and set the bar when it comes to engineering and product development. MacroAir technology is based on the principle that moving air slowly is far more efficient than moving air quickly. Their HVLS fans move air down and out in all directions, keeping the air fresh and helping people and animals feel more comfortable.
MacroAir products are unparalleled in energy efficiency and airflow. They are assembled in the USA and installed worldwide. Customers benefit from local service and highly customized solutions from MacroAir's global distribution network.
Download a quick reference guide to HVLS fans today.
Visit our shop today to learn more about MacroAir's premium HVLS fans.