The 5 Most Common HVLS Fan Installation Mistakes
Doing your own High Volume, Low Speed (HVLS) fan installation can be very beneficial for understanding all the components and inner workings of an HVLS fan. Of course, the main benefit is the added savings you get on installation costs by doing the installation yourself.
Here are the 5 most common HVLS fan installation mistakes, so that you can avoid any problems while installing your HVLS fans and have the most efficient installation possible.
1. Know Your Distances
The correct placement of the HVLS ceiling fans should be carefully planned if you want to get maximum airflow. When planning where to mount your fan, it's vital to understand your facility and how it is constructed. Think about factors such as the materials used to construct the ceiling, whether there are any other ventilation systems on the ceiling that might be impacted by the fan, and how far you are placing the fan from walls and other obstructions. In order to do this, you must measure and consider all dimensions in your facility.
DO: Confirm distances from floor to ceiling, walls, other fans, obstructions, and equipment.
AVOID: Placing the HVLS fan without considering fan blade diameter, facility dimensions, and other obstructions.
2. Is it Wired Correctly?
One of the most critical factors in the installation of an HVLS fan is its proper wiring. If you're using a sophisticated Building Management System (BMS), or you have other fans or a climate control thermostat, it's critical to think about how your HVLS fans will integrate with them.
Can your HVLS fans be daisy-chained together so you can control them all at once? Is it possible to connect your HVLS fans to an existing BMS, which you can use to operate and automate your HVAC system and your HVLS fans? You'll save time and frustration if you ask these questions before you install your fans, instead of trying to figure them out after the fans are already operational.
DO: Check that the network cable specification meets or exceeds OEM requirements (STP braided Cat5e). Also, confirm network cable installation and terminations are according to specifications.
AVOID: Forgoing a precheck for network cable specifications.
3. Mount Up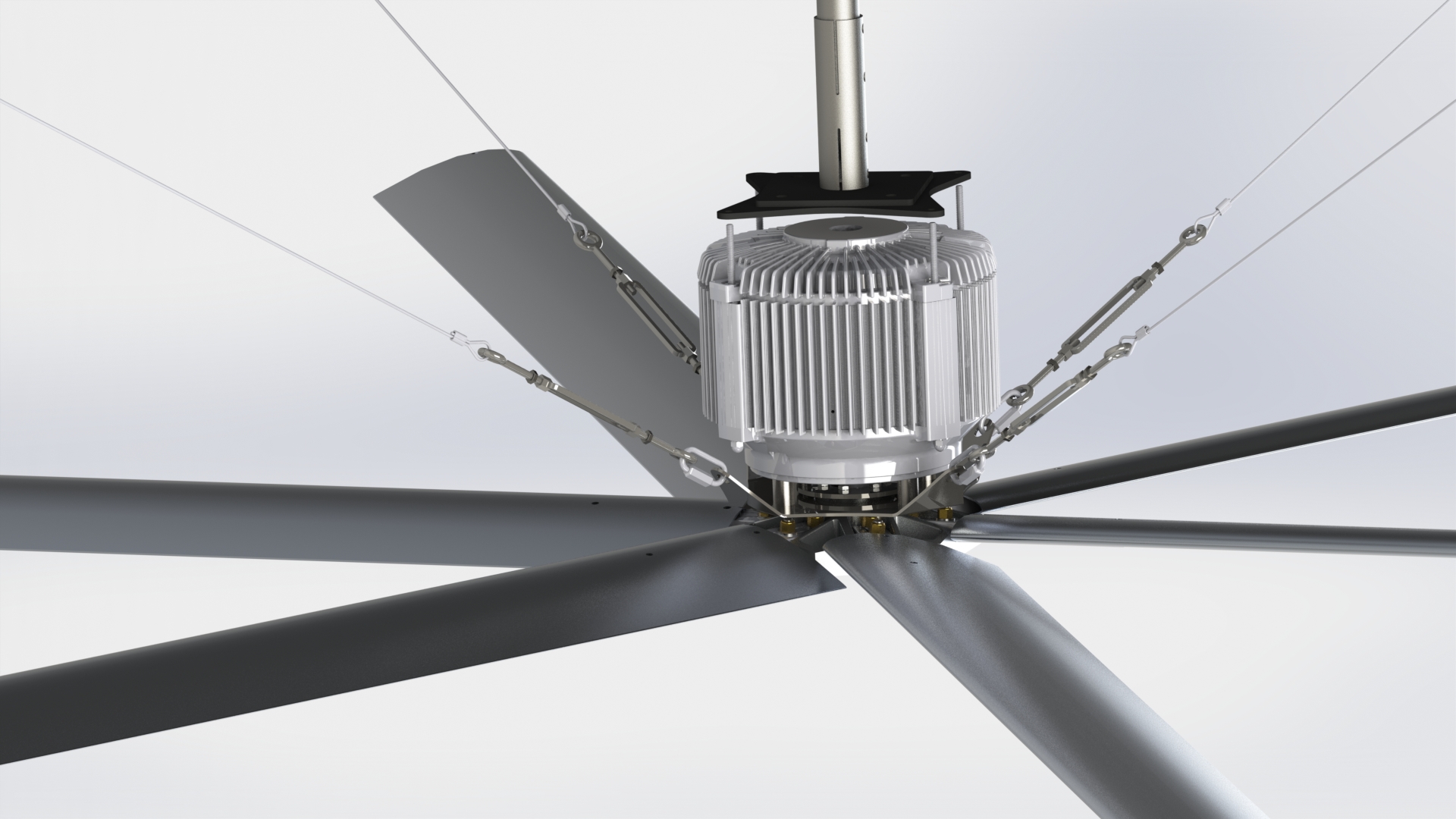 Mounting your HVLS fan is another important concern. Even if you purchase top-quality large ceiling fans that fit your needs, you won't get the results you were expecting if you don't mount them properly. Guy wires are often used to give fan stability and ensure it stays in place, even in extraordinary situations like earthquakes and wind storms.
DO: Confirm guy wires are correctly installed and tight where required.
AVOID: Installing the fan without guy wires if required.
4. Keep Fan Blades Where They Belong
When it comes to safety and HVLS industrial fans, the first and foremost concern is protecting yourself or employees from the rotating fan blades. Unlike floor fans or high-speed blowers, HVLS fans are mounted high above employees. Correctly installed fan blades will likely not have direct contact.
DO: Install fan blades correctly according to OEM instructions and per their specific requirements (e.g. blade strut grease, safety retainer links, etc.).
AVOID: Installing the fan blades without paying attention to guidelines and procedures.
5. Make it Last
Lots of agricultural, engineering, and manufacturing facilities have high-temperature processes. They also can have electrical equipment interference that can affect the functionality of an HVLS fan. Extreme conditions such as heat emitting from industrial machinery or electrical interference can void your fan's warranty. Extreme conditions can also cause serious damage to a fan motor. To avoid this issue, be sure to carefully follow the manufacturer guidelines in assessing any process conditions or electrical equipment that can affect fan durability.
DO: Assess any process conditions or electrical equipment likely to affect fan durability
AVOID: Placing the HVLS fan close to conditions or electrical equipment that can affect the HVLS fan's sustainability.
These are just a few of the things to keep in mind when installing an HVLS fan. Remember to consider the specific size and specifications of your facility so you can place your HVLS fan properly. For best results, have a manufacturer's representative from your fan company analyze your space and give you their opinion on how best to install your HVLS fan.
Are you considering installing an HVLS fan? Did these tips help you out? Leave your comment below.