What is a Mobile Cage Fan?
A mobile cage fan is exactly what you imagine from the name…and more. It is a massive 6-8 foot HVLS fan encased in a steel-framed cage. And it's mobile! How is it mobile, you may ask? The entire fan sits on four durable casters that easily allow a user to move it into place, plug it in, and let the directional fan do the cooling – ANYWHERE necessary. Now, let's talk specifics.
Size and Construction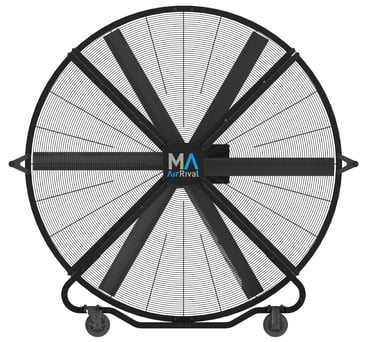 The most common size of a mobile cage fan is 6 feet in diameter. However, sizes range from 24-96 inches in diameter, which is up to 8 feet in diameter. Crazy big! Regular drum-type fans are usually only 10-24 inches in diameter. That's a big difference, and it drastically changes the amount of air movement in a space.
The 6-blade, 6-foot diameter AirRival mobile cage fan by MacroAir is surrounded by an OSHA-compliant, powder-coated, steel-framed cage. The powder coating color comes standard in black, but it is customizable to fit the aesthetic of your space or company. The OSHA compliance keeps all those curious little fingers safe and out of the cage and away from fan blades.
The AirRival by MacroAir also fits through a standard interior doorway. This makes it much more versatile to move inside and outside. And since it is portable, it also allows for easy movement and storage out of the elements.
Blade types

The AirRival comes standard with 6 aluminum 6ft xs blades. Large portable fans are different from high-velocity fans, which move air at an above-average speed when operating. These fans can be loud and disruptive. But large portable fans move air at a calm and consistent speed. You will get big air movement without all the turbulence of smaller fans. Just even and consistent air movement.
The blade material is similar to that of an HVLS fan - made of aluminum. Aluminum blades work best because they are lightweight, corrosion and rust-resistant, and are guaranteed not to warp. It has an anodized finish that repels dust accumulation and oxidation. This anodized finish is unique to MacroAir's fans - and it is one of the features that truly set them apart.
Portable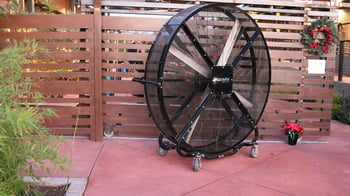 The AirRival mobile cage fan rests on four large, durable, polyurethane swivel casters. This makes it very easy to move in all directions and on all types of terrain. More importantly, it allows for directional air movement. Point the large portable fan anywhere you need airflow, and it's got you covered.
It also comes equipped with a handle attached to the side of the cage making it simple to push or pull the fan wherever you need it. You can literally move the fan with one finger! Once the fan is in place, you can lock the casters in place to ensure it stays where you want it. The base is wide and sturdy, making it extremely safe and tip-resistant.
Weight
The AirRival mobile cage fan comes in at approximately 380 lbs of mild steel construction. On average, large portable fans come in between 300-400 lbs depending on the material used.
Power and Air Movement
The AirRival mobile cage fan is a "plug-and-play" design (120 V / 6.3 Amp Input). You can plug it into a normal wall outlet and enjoy the relief offered by the air movement immediately. It comes equipped with a 3/8 HP motor and a max RPM of 250. It also comes standard with variable speed control, and it is rated for indoor and outdoor use (IP55 washdown).
How does that power equate to air movement? Mobile cage fans can move an extreme amount of air! In fact, the airflow of one fan will extend up to 120 ft and out in either direction approx 20ft.
There are many variables that come into play with air movement. You must consider the set speed on the fan. Fans offer low, medium, and high control, or a variable speed rotary dial. Rotary dials allow you to adjust your fan speed to your comfort level. You also must consider the placement of the fan and how many you have running.
Noise Db
Sound is easily overlooked when shopping for a fan. But it's one of the most important elements to consider. Since large fans often run continuously for eight hours a day, pay close attention to the dB level, as exposure to loud noise for prolonged amounts of time may damage hearing. Technical specs may list the mobile cage fan's dB level. Additionally, pay attention to the motor type, the construction material, and the overall quality. Each of these plays a factor in noise level.
If the large mobile cage fan does not disclose dB levels, you can easily download an app like Decibel: dB sound level meter. This app provides an accurate dB rating. You can compare noise levels from the back, front, and side of the fan. This way you can make a more informed decision for your facility.
The AirRival has a preliminary max dbA rating of 72 on max speed. Realistically, in most scenarios your fan will not be operating at max speed, so your dbA levels are likely to be much lower for normal daily operation. Compared to other mobile cage fans, MacroAir's AirRival's dbA is about 6 points lower at max speed.
Where are mobile cage fans used?
The versatility of mobile cage fans makes them easy to use in most types of spaces. They can be used inside or outside, as they are outdoor rated. They also can be used in humid and arid environments. Large mobile cage fans move MORE air than smaller high-velocity fans, which rotate at a very fast rate with small blades. They do not kick up as much dust and grime while operating which is great in outdoor applications, like barns and outdoor venues. Below are some other settings in which this fan works perfectly.
Types of settings
Large spaces that benefit from the addition of a mobile cage fan include:
event halls

large event-size tents

fitness centers

warehouses

factories

barns

larger mechanical shops or garages

greenhouses

growing facilities

barndominiums

malls

airports and hangars

large retailers
Small spaces
In contrast to large spaces, small spaces like smaller automotive repair shops are perfect for these large mobile cage fans. Despite their small size, these spaces need excellent ventilation and airflow. Proper airflow keeps workers safe. In fact, if there is not enough airflow through a facility that has constant emissions from engine exhaust, it can lead to carbon monoxide poisoning. For that reason, there are mandatory measures in effect for ventilation requirements within mechanical shops requiring minimum ventilation rates per square foot of space. It is important to understand these requirements.
How many mobile cage fans are needed?
How many large portable fans are required depends on the size of the space. Remember, the directional airflow will extend up to 120 ft and out approx 20ft. Because this is a mobile fan, the amount of fans really depends on the type of air you wish to push. In a normal room with a smaller fan, you would calculate Cubic Feet per Minute (CFM) to figure out how many fans would be needed. But with LARGE diameter fans, it is not a feasible way to calculate the CFMs as CFM ratings are not available for them.
Benefits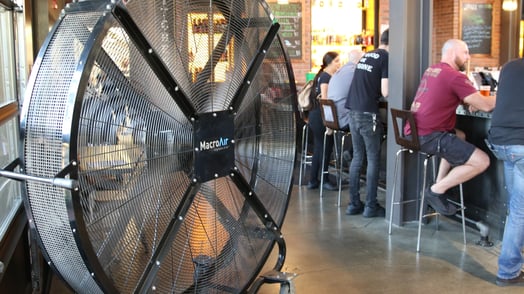 Here is a quick list of benefits offered by the AirRival mobile cage fan. This is an incredible fan that will change the airflow in your space in a VERY affordable way!
Plug and Play - no installation! (120 V)

Comfortable people/customers

Better ventilation – no more stuffy rooms

Controlled humidity levels - perfect for growing facilities

Easily movable and placed where you need it most

Quieter than high-velocity drum fans
The AirRival will leave you and your guests feeling comfortable. Not only will it move an incredible amount of air, but it will also do it without kicking up debris or operating at a loud noise level. The low cost and high rewards are unmistakable. In fact, the AirRival should be a standard fixture in any shop, event hall, hanger, or growth facility. The affordable transformation it provides to your comfort and your space is simply undeniable.
Learn more about the AirRival and download our free information pack now by clicking the link below. Learn more about this awesome fan!