Industrial Mobile Cage Fans - A Complete Guide
Air movement and proper ventilation in a room are sometimes necessary in the blink of an eye. Not to mention, it is crucial for one's health and well-being. One sure way to achieve immediate and effective air circulation is by adding industrial mobile cage fans. These fans move a significant amount of air, which makes them perfect for large rooms and industrial spaces. Furthermore, the versatility and ease of movement make them ideal for quick use in many situations.
What are industrial mobile cage fans?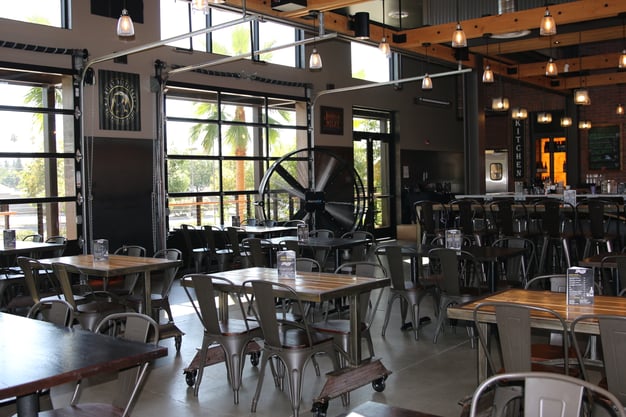 Industrial mobile cage fans are high-volume fans encased in a large steel cage with casters to allow mobility. Because they move so much air, these fans are perfect for large rooms like gyms, shops, and industrial spaces that need quick air movement and intense ventilation. Additionally, these fans are considered directional fans, as they are easily able to move around to move air in any direction you need. Plus, the size of large portable fans is impressive! Diameter size starts with anything larger than a 24" and goes up to a whopping 96"! That is EIGHT FEET in diameter! In contrast, regular-sized fans range between 10"-24".
Where are industrial mobile cage fans used?
Portable fans are ideal for places needing more flexibility in spatial arrangement or in spaces that are temporarily set up. This is because they are easy to move in and out of a facility or venue. They are also ideal for spaces needing quick air movement and ventilation because they can move some serious air. An example of this type of space is a shop with a variety of dangerous fumes and car emissions. Lastly, adding industrial mobile cage fans is perfect for spaces that just need temporary ventilation or air movement. Examples of this type of space are sports competitions or tournaments, large events like weddings, or any other occasion where many people gather together.
Large spaces
Large spaces that would benefit from the addition of an industrial mobile cage fan include:
event halls

large event size tents

fitness centers

warehouses

factories

barns

larger mechanical shops or garages

greenhouses

barndominiums

malls

airports and hangars

large retailers
Small spaces
In contrast to large spaces, small spaces like smaller automotive repair shops are perfect for these large portable fans. Despite their small size, these spaces need excellent ventilation and airflow. Proper airflow keeps workers safe. In fact, if there is not enough airflow through a facility that has constant emissions from engine exhaust, it can lead to carbon monoxide poisoning. For that reason, there are mandatory measures in effect for ventilation requirements within mechanical shops requiring minimum ventilation rates per square foot of space. It is important to understand these requirements. The cool thing about these directional fans is the casters. The casters allow you to move that fan toward your garage doors to face any direction needed. You can get the unhealthy air out and get the fresh air circulated back into the shop.
Noise level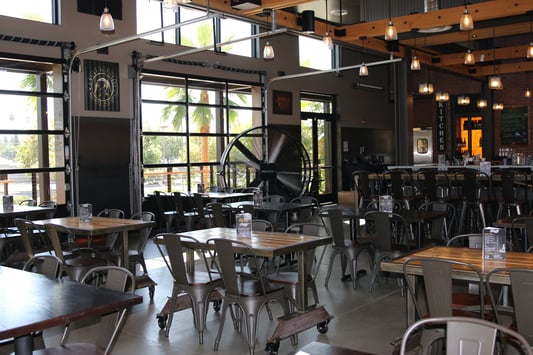 Sound is easily overlooked when shopping for a fan. But it's one of the most important elements to consider. According to the CDC, exposure to noise above 70 decibels (dB) for a prolonged amount of time may damage hearing. Since large fans often run continuously for eight hours a day, pay close attention to the dB level of the industrial mobile cage fan. The technical specs may list the fan's dB level. Additionally, pay attention to the motor type, the construction material, and the overall quality. Each of these plays a factor in noise level.
If a large portable fan does not disclose dB levels, you can easily download an app like Decibel X: dB Sound Level Meter. This app provides an accurate dB rating. You can compare noise levels from the back, front, and side of the fan. This way you can make a more informed decision for your facility.
The AirRival by MacroAir has a preliminary max dbA rating of 72 on max speed. Realistically, in most scenarios your fan will not be operating at max speed, so your dbA levels are likely to be much lower for normal daily operation. Compared to other mobile cage fans, MacroAir's AirRival's dbA is about 6 points lower at max speed.
Air Movement

CFM Rating
The most popular way to measure airflow is in cubic feet per minute (CFM). With this in mind, the CFM range for industrial portable fans most commonly falls between 5,000-20,000 CFM. Larger fans (6'-8') often do not calculate CFM ratings, so do not be surprised if you can not find CFM ratings anywhere in the specifications.
Airflow Velocity & Distance
The simple term for airflow velocity is wind speed. Airflow velocity rates vary depending on the set speed level of the fan and the standing distance from the fan. Industrial mobile cage fans run at low, medium, or high speed. In addition, you can run some fans with a rotary dial, which allows you to adjust your fan speed to your personal comfort level.
The AirRival large portable fan by MacroAir is a "plug-and-play" design (120 V / 6.3 Amp Input). You can plug it into a normal wall outlet and enjoy the air movement immediately. It comes equipped with a 1 HP motor and a max RPM of 265. So, how does that power equate to air movement? Mobile cage fans can move an extreme amount of air! In fact, the airflow of one fan will extend up to 120 ft and out in either direction approx 20ft.
Fan Placement
The placement of a fan depends on what you are trying to accomplish. But that is the beauty of this directional fan! It works anywhere and in any direction you need it. According to the CDC, if you want to better ventilate your facility, place your fan as close as possible to an outdoor window, garage, or doorway facing outwards. By doing this, you draw the stagnant air out of the room. If you are trying to cool the room, face the fan inwards - that way it's drawing the fresh air into the space from the back of the fan.
Another great addition to a room for proper ventilation is a ceiling fan. In fact, very large spaces are perfect for HVLS fans! MacroAir Fans offers a selection of top-of-the-line HVLS fans in a variety of sizes to help you improve your airflow and ventilation.
Energy Usage of Industrial Mobile Cage Fans
In general, it is much less expensive to run a fan than it is to run an air conditioner in a month. This does not take into account the expense of installing an HVAC unit versus the no installation cost of the large mobile fan.
However, it is fairly difficult to contrast the specific energy cost of a large portable fan versus an air conditioner due to a few major variables. One, it depends on where you live, and two, it depends on the variation of temperatures and humidity levels.
Be mindful of the temperatures where you live. If you are in an environment with higher temperatures, look for a fan with a thermal shutoff switch. This switch keeps your fan from overheating. It will automatically shut it down when the temperature gets too hot, which prevents burn-out or a major malfunction of the fan.
Have a sealed motor. This will help the temperature of the motor to stay cooler.
Operation of Industrial Mobile Cage Fans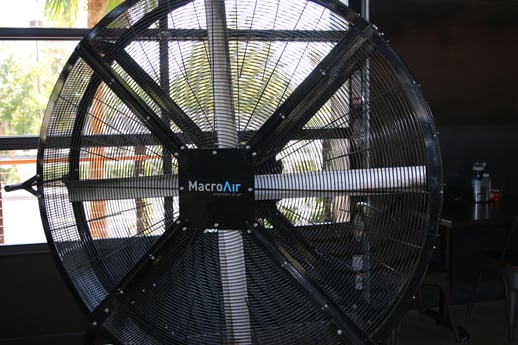 Casters and Handles:
Having the ability to move large portable fans from one location to another makes them ideal for many applications. Furthermore, it can be a breeze to move some models because of the addition of handles and casters. If casters are not present, they can be quite cumbersome to move.
Cage and Materials:
First, the cage of the fan should be OSHA compliant, meaning the guard is no more than half-inch in width. Second, look for powder-coated housing for durability. Lastly, find thicker grade steel for more endurance and to cut down on the sound.
Get Your Space Cool Now
To achieve immediate and effective air movement and ventilation, add an industrial mobile cage fan. Large cage fans definitely pack a punch! They move a significant amount of air, which makes them perfect for large rooms and industrial spaces. And remember, the versatility and ease of movement make them ideal for quick applications in a variety of situations.
MacroAir is proud to introduce the all new AirRival. The revolutionary AirRival is the unrivaled choice in portable fans. With the AirRival, you can navigate unrivaled air - anywhere. Including four swivel casters, the 6 ft AirRival delivers effortless airflow - conveniently and calmly to you and your peeps anywhere you need it. Just plug it in, move it to where you want it, and ENJOY the quiet, gentle breeze!
Download your AirRival Information pack below.