Warehouse Layout Design Tips For Productivity
Planning a warehouse layout design can be a daunting task due to space constraints and specific storage needs. It is crucial to devise a well-thought-out warehouse layout to ensure you make the most of available space, optimize efficiency, and keep shipments on time. This article will guide you through the top four areas to consider when designing your warehouse layout. It will also give valuable insight into keeping your warehouse personnel productive.
The Principles of an Effective Warehouse Layout Design
In each step of warehouse layout & design, ask this key question: will this plan keep your warehouse operation moving in a faster, easier, cheaper, and safer way? To answer this question, one must consider WHEN to start planning. The answer is simple. It is never too early to start. When you think about it – DO IT. First, know the size and shape of the space, as well as the overall purpose. Next, consider how much will be stored (at least on a conceptual level). Finally, think through the volume of product the warehouse will hold, how to store it, growth levels, picking, and packing and shipping. Do not only think about what you need today, but also consider what you may need in the future, and your growth potential.
There are three basic design styles to choose from. Designs include the "L" shaped design, "I" shaped design, or "U" shaped design. The "I" shaped and "L" shaped designs require more square footage than the "U" shaped design. Research what design works best for your specific needs. It is also possible to create a combined variation of these basic styles. It really is about finding and identifying the specific needs in your warehouse layout. Check out this helpful blog from BigRentz on the specifics of these three common warehouse designs.
The Top 4 Considerations When Designing Your Warehouse Layout
1 – Flow
Photo by Tiger Lily from Pexels
Having good flow in a warehouse layout will greatly increase productivity and efficiency. Flow refers to the physical layout of the area within the warehouse. Also, consider how that flow works for employees. In fact, nearly 50% of most warehouse budgets go towards staffing. This tells us one better pay attention to how the space is working for employees. After all, the ultimate goal is to pick and move products faster, easier, cheaper, and safer.
To begin, each area of your warehouse layout design must be carefully thought through and organized. In fact, there should be no wasted space in your facility. Therefore, you must plan accountability for every single square foot of your space.
Four basic zones:
Loading and Unloading Zone
An effective warehouse design must include a designated loading and unloading zone. These two areas are organized in a number of different ways to accommodate your needs. However, the basic design must be in place.
A loading and unloading zone generally contains a dock and lift door to accommodate truck deliveries and pick-ups. If you have a dock connected to your building, the loading and unloading zone is offered in a multitude of different designs ( which are mentioned above). In the most common design, "U" shaped, the docks are on the same side of the building. This allows ease of shared heavy equipment (forklifts), less product handling time, and cross-dock movement.
Reception Zone
The reception zone is the area of the warehouse where all receiving, quality control, and sorting take place. Additionally, this area must be big enough to check in all products for review and inspection. The reception zone can be set up in any type of layout but works a bit easier with the "I" and "L" design. It is important that it is central to the operation, yet still separate in order to receive and sort all orders.
Storage Zone
The storage zone is where goods are stored. There are many ways to store items within your space. It is important to utilize not only your floor space but also your vertical space. Goods can be stored on the ground, stacked on pallets in blocks, or on racking units. Keep in mind the internal strength of your packaging when stacking pallets. If it is a rigid material, like cardboard, wood, plastic, or concrete, it can withstand more weight. Therefore, higher vertical stacking can occur.
Picking Zone
The picking zone is optional within the warehouse layout design. It is beneficial when shipping is required directly. Keep packaging material on hand to accommodate shipping needs. Think through what works best for your operation, and determine what items to keep on hand. This could include bubble wrap, packing peanuts, and different size boxes and envelopes. Even more, you can add prefab packing stations to this area for ease of use with employees.
2. Accessibility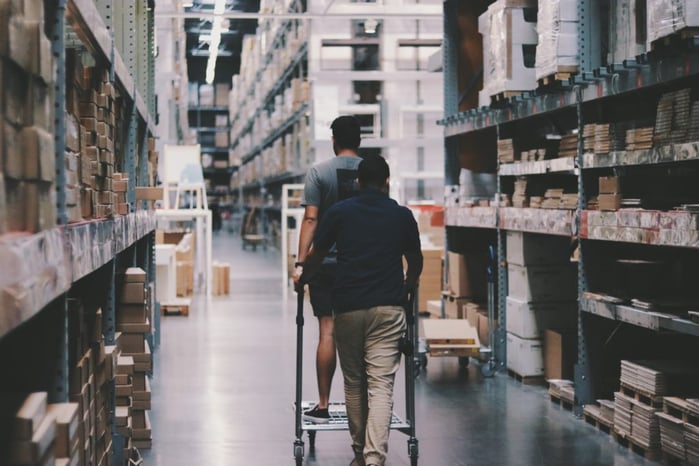 Photo by Alexander Isreb from Pexels
In your warehouse layout design, it is essential to have easy access to all points and products. Keeping the words EASY and FAST in mind, provide a layout that lets workers quickly and efficiently find what they need when they need it. For that reason, continually ask yourself the question: how quickly can employees find, pick, and pack the items needed? Adjust your warehouse layout for easy finding, picking, packing until it is as efficient as possible.
Additionally, keep your dynamic inventory (more popular inventory) in a more accessible part of the warehouse storage space. Keep static storage (less popular inventory) towards the back of the warehouse storage area. By paying attention to these details, you will improve productivity in your facility.
3. Traceability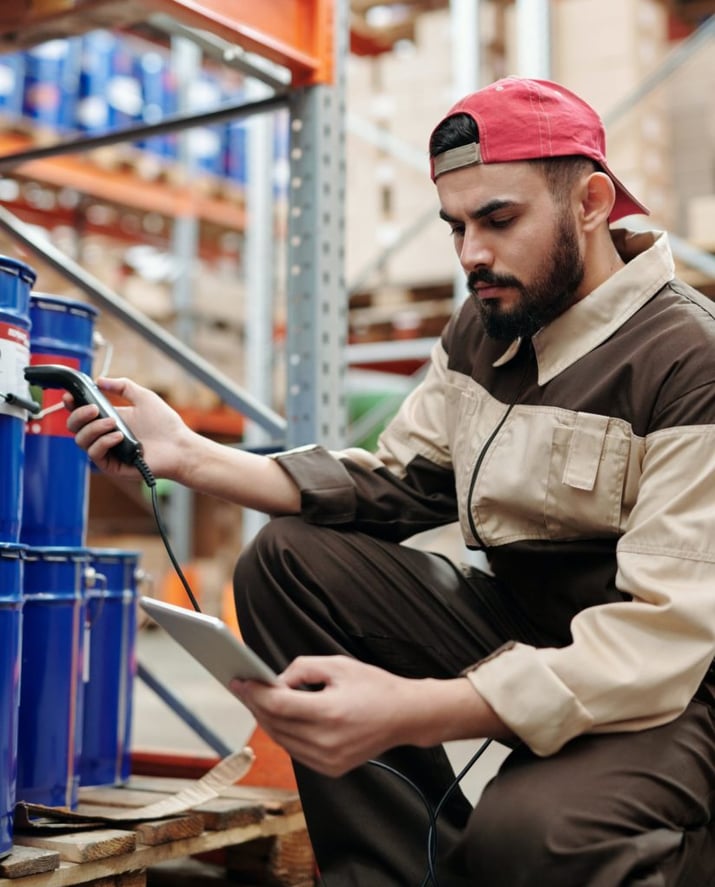 Photo by Tiger Lily from Pexels
Traceability refers to operations and systems in place for optimal warehouse organization. Have a quality Warehouse Management System (WMS) in place to track the material movement in your well-designed warehouse. Also, choose a voice picking device to keep your warehouse running efficiently. Voice picking devices will quicken your picking process significantly compared to hand-help radio devices. Being hands-free not only allows quicker picking but also safer picking with less risk of employee injury.
4. Capacity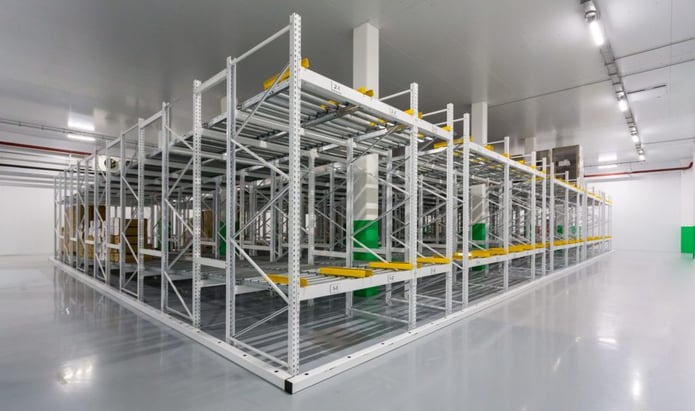 Photo by Petr Magera on Unsplash
Keep in mind potential growth in your warehouse design. Always allow room to grow. Think about how many cubic feet of space you need to house your inventory. Furthermore, think of what inventory you need to keep on hand, as well as the quantities that make sense.
According to Logistics Bureau Specialist, Mal Walker, you should consider staying in the 85% capacity range. This allows room for growth. If your warehouse storage is more than 85%, it can create a product deficiency. This happens because the warehouse layout is too difficult to navigate for the employees. When it is difficult to find items, it ends up causing more travel time within the warehouse. Essential time wasted, which equals money lost. The key to the flow of inventory is to keep inventory manageable, accessible, and well organized.
Personnel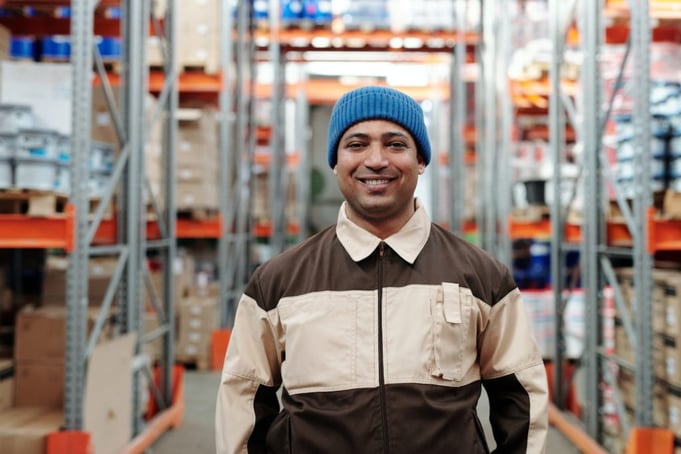 Photo by Tiger Lily from Pexels
Design a warehouse layout in a way that does not limit productivity. Create an environment that makes your warehouse a place where employees truly want to come to work every day. This will positively impact labor productivity. MacroAir big industrial ceiling fans generate comfortable airflow throughout the design of your warehouse. They increase employee comfort, resulting in increased productivity and improved operations. Other benefits of the large warehouse fans include:
Energy efficiency: saving on heating and cooling costs

Increased ventilation

Better indoor air quality

Quiet operation
Large warehouse fans can be installed in most warehouses without major restructuring. They can also supplement an existing HVAC system. If you run a warehouse without HVAC, the airflow output from a MacroAir industrial fan can be a huge game-changer for managing your employees' work environment. Additionally, in combination with a building management system (BSM), warehouse facility managers have greater control over the way warehouse fans and HVAC systems work together providing a tremendous increase in air circulation and reduction in AC cooling costs, all while providing comfort for the warehouse workers.
Why Ceiling Fans Are a Must-Have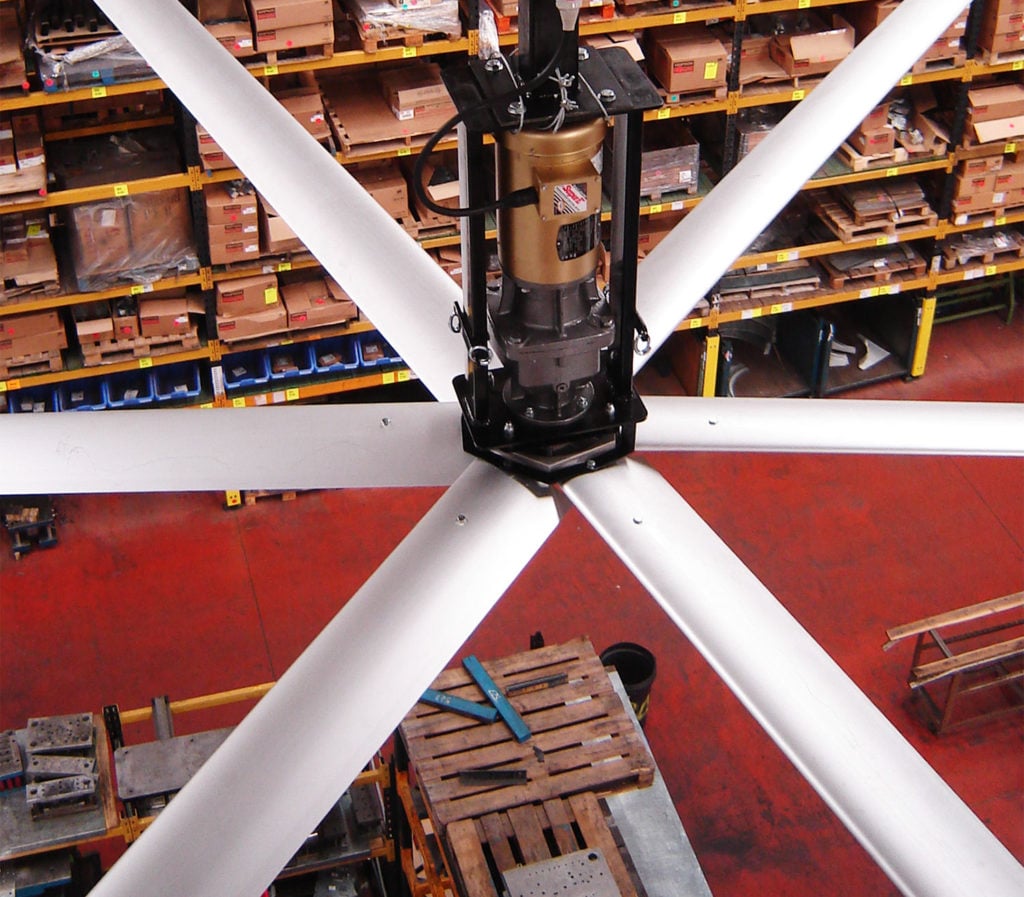 HVLS fans will greatly improve your warehouse air quality. With the current climate surrounding Covid-19, there is a need for employers to keep warehouse air quality clean and healthy for employees. Recently, MacroAir Technologies proudly partnered in helping to fund an Air Movement and Control Association International (AMCA International) study.
AMCA Study Shows Ceiling Fans Help Create Healthier Warehouses
Air Movement and Control Association International (AMCA International) released a new report on a year-long study giving Covid-19 guidance on running large diameter ceiling fans in warehouse spaces.
AMCA International, in collaboration with Concordia University, and an elite team of scientists and engineers, just released the new report: "AMCA COVID Guidance for UNDUCTED Fans – Modeling Ceiling Fans". The goal of this study was to understand the effect of large-diameter (larger than 7ft) ceiling fans on COVID-19 exposures in warehouses (Ivanovich, Gunzner, & Arnold, 2021). The study was based on over 200 simulations conducted in a 330ft x 150ft x 28ft warehouse. Below are the major conclusions.
AMCA Report At A Glance
Confirmations:
Operating a large diameter ceiling fan (LDCF) at the highest speed in a downward direction is the most effective option to help reduce the concentration of airborne particles from loud speaking (shouting) in a sparsely populated warehouse setting (Wang, 2021).

There was also a reduction in airborne particle concentration when a fan was running in reverse direction at the highest speed in a sparsely populated warehouse setting (not as great of a reduction as in a downward direction) (Wang, 2021).

Operating a ceiling fan at a slower speed will show a slight reduction in the concentration of airborne particles from speaking loudly when occupants are close to the fan, but not as much as at the highest speed and not outside the fan region (Wang, 2021).

Reducing fan speeds and running in reverse could slow all airflow, thus actually increasing the concentration (Wang, 2021).
Guidance:
No matter how far the workers are from the fans (in summer months), operate fans downward at the highest appropriate speed (while still keeping people comfortable) in either direction – forward or reverse (Wang, 2021).

No matter how far the workers are from the fans (in winter months), operate fans downward at the highest appropriate speed (while still keeping people comfortable), OR operate the fans in reverse at the highest appropriate speed (Wang, 2021).

Open windows and doors in your warehouse and operate ceiling fans wherever possible (Wang, 2021).

Do not locate employees directly next to each other for long periods (Wang, 2021).

Operate ceiling fans at the highest possible rate in either direction while still keeping your employees comfortable.
MacroAir proudly stands behind helping to create healthy, well-ventilated environments for all people. Their HVLS ceiling fans certainly are a necessary addition to all warehouse spaces. MacroAir truly cares about keeping people healthy. Warehouses Love MacroAir's Ceiling Fans
Find out how our fans impacted a warehouse facility in Southern California as Kamel Zeidan explains the importance of employee comfort.
Warehouses Love MacroAir Ceiling Fans
HVLS warehouse ceiling fans will work alongside your HVAC system and keep you and your employees cool and happy, thus increasing productivity. When employees operate at an ideal temperature, fewer mistakes are made and less time is wasted. Furthermore, adding a large ceiling fan makes your overall warehouse layout design more energy-efficient. Additional benefits of a warehouse ceiling fan include:
Circulate airflow from the ceiling to floor

Reduce heat in the summer months

Increase warm air in the colder months

Reduce condensation and humidity buildup
Where To Start
Although planning a warehouse layout can be a daunting task, a good layout is extremely attainable. Take the time to devise a well-thought-out warehouse design. The design should make the most of available space, optimize efficiency, and keep shipments on time. Furthermore, create a healthy and comfortable environment for your personnel. Integrate MacroAir HVLS fans into your warehouse design (with or without an HVAC system). By doing so, you will provide a more comfortable working environment. When employees are healthy and happy, and the warehouse is well ventilated and comfortable, everything runs faster, easier, cheaper, and safer. These are the factors for which we strive to achieve.
MacroAir offers an impressive selection of 8 to 24 ft fans that are the solution to your warehouse air circulation and cost-saving needs. Our original HVLS fans are assembled right here in the USA. They are the MOST efficient, MOST technologically advanced large ceiling fans for your warehouse. Check out more specifics on the benefits of MacroAir's HVLS fans for your warehouse by clicking below. Or simply contact us directly to speak with a knowledgeable sales representative for prompt assistance identifying the fan best for your warehouse layout design.
References
Ivanovich, M., Gunzner, A., & Arnold, S. (2021). AMCA COVID-19 Guidance for Large-Diameter Ceiling Fans. AMCA International.
Wang, L. (2021, October 26). AMCA COVID-19 Guidance for Large-Diameter Ceiling Fans. Cube: AMCA covid-19 guidance for large-diameter ceiling fans. Retrieved November 8, 2021, from https://users.encs.concordia.ca/~leonwang/moodle/mod/forum/discuss.php?d=13.