Green HVAC Contractor Reduces AC Tonnage by 25%
H.T. Lyons, Inc., a full service mechanical contractor in Allentown, PA (and a subsidiary of PPL Corporation) is on the cutting edge of creating "green" HVAC systems that get buildings LEED certified or ENERGY STAR rated.
Scott Sine, Director of Energy and Engineering Services, knew about energy efficient hvls (high volume low speed) fans as he had installed a competitor's fans at a previous job years ago in order to help increase Ventilation Effectiveness.
Sine heard about MacroAir's energy efficient Six-Blade HVLS commercial ceiling fans from Allan Witzell, of DSI Solutions in Quakertown, PA, and after learning from Allan, and his partner John Kelly, on how HVLS fans could supplement HVAC systems, decided to incorporate them into two warehouse projects.
Sine's company designed HVAC systems for a 125,000 square foot rented warehouse for Liberty Property Trust and a 95,000 square foot warehouse for Olympus. Each system incorporated MacroAir 24-foot Six-Blade HVLS fans.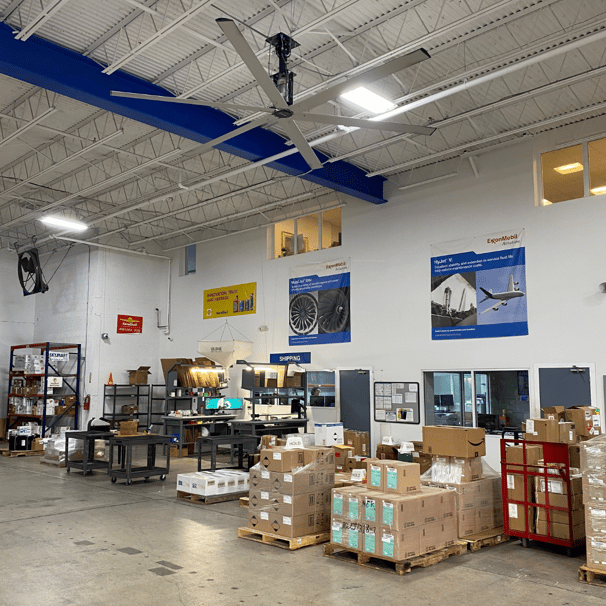 Sine was able to achieve a number of energy saving and cost benefits by incorporating HVLS fans into his HVAC warehouse designs:
Used fewer units
Sine was able to space the AC units further apart — a strategy that required fewer units and less ducting, which lowered capital costs.
Decoupled fan distribution and cooling
Sine pointed the small AC fans toward an HVLS fan, which then mixes the cool air throughout the building. The HVLS fans focus on even temperature distribution across each warehouse; the cooling units simply pump in the necessary air.
Raised AC set point by 4 degrees
Due to HVLS fans increasing the evaporative cooling effect, building managers were able to raise the AC set point by approximately four degrees. For each increase in degree, the energy savings is estimated at a 3-5% reduction in energy consumption.
Optimized compressor staging
Since only two of the four AC units needed to now operate, versus four in a standard HVAC design that lack HVLS fans, each unit operates at maximum efficiency.
Reduced tonnage by 25%
Where he needed five fans, Sine was able to purchase four. The cost savings more than paid for the HVLS fans. And, by reducing AC tonnage, Sine's clients will also save tens of thousands of dollars in future heating and cooling costs.
In addition, both warehouses comply for ENERGY STAR performance if the respective owners ever want to list their facilities.
What we liked about this story is that one of Sine's clients didn't think the HVLS fans were doing their job. Why? Because they move so slowly! The client turned off all the fans — and had to turn them back on again once his building heated up! He then recognized the difference MacroAir's HVLS fans made.

Incorporate MacroAir fans into your warehouse design to maximize your HVAC, your comfort, and your savings. Contact us today to find out more about our HVLS fans. There is a fan for every space and need.
https://macroairfans.com/contact/