Ceiling Fan Direction for Summer Cooling and Winter Heating
Did you know that HVLS fans offer year round benefits? That's right! They not only help cool your space, but they also help heat it.
Season changes come upon us quickly. And as we move from one extreme to the next, we start to think about how to cool or heat our area more efficiently. While most ceiling fans are energy efficient and have year-round use, it is easy to forget to change the ceiling fan direction from summer to winter and winter to summer. Using the principle that warm air rises and cold air sinks, it's important to be sure the air is circulated in the right direction.
What Are the Benefits of Changing Ceiling Fan Direction
When it comes to rotation, having the correct ceiling fan direction can effectively save you money on heating and air conditioning costs. In the summer, you may recoup about 30% on your energy bills. This is because you are decreasing your reliance on air conditioning. Additionally, you can save up to 15% in the winter on heating costs.
As mentioned, ceiling fan direction can make a huge difference. Not only will it affect how cool or warm your employees are but it will also affect your air conditioning bill. This is true for cooling during the summer months and heating during the winter months.
Every home and business is affected by temperature changes during the seasons. In the service industry, these fluctuations in the air temperature can mean a world of difference for you, your employees and to the product itself. In warehouses, agricultural spaces, commercial spaces, and homes, the summer sun will affect the overall temperature inside between the floor and the ceiling.
Large ceiling fans make a huge difference for industrial facilities, commercial spaces, and homes.That is, if they are set correctly for each season. However, if ceiling fans are set to spin incorrectly during the summer months, they will push warmer air from the ceiling down. This actually makes people feel hotter. It's the opposite in the winter. You'll want to push warmer air down onto you and your people rather than making your heating unit do all the work.


What Direction Should Your Ceiling Fan Spin for Summer and Winter?
If you have a regular large ceiling fan that has a traditional switch, it is often hard to determine which setting is correct for the season. One tip is to stand under the ceiling fan while the blades rotate. While the fan blades turn, they should move counterclockwise. You should feel air moving over you. If you do not feel the air moving, more than likely your setting is still set for winter. This would mean it is still moving in a clockwise direction. Find the motor housing and flip the switch the opposite of what it is set. This will make the blades spin in the opposite direction.
Many HVLS ceiling fans have a remote control to easily make the directional switch from summer to winter. To fully benefit from changing the direction of your ceiling fan, the position of the ceiling fan is just as important. Fans should be installed between seven and nine feet from the ceiling to the floor. However, if you have vaulted ceilings, you should make sure your ceiling fan has a blade circumference that fits your area. Using too small of a fan may actually increase your energy costs as it will work overtime to try and cool too big of a space. Remember, small residential ceiling fans are not optimal for large industrial or commercial spaces. They are also not ideal for large indoor or outdoor residential spaces. Ceiling fans need the speed and versatility to do their job sufficiently.
Ceiling Fan Summer Direction
In the summer ceiling fans need to spin in a counterclockwise direction. This allows the cooler air near the floor to circulate. The people under it will be feeling cooler. The air movement gives off a cool breeze as the air passes over. The wind chill effect will make everyone feel cooler. Check How HVLS Fans Work for more info.
Ceiling Fan Winter Direction
In the winter and cooler months, your ceiling fan needs to spin clockwise. Make sure to spin it on the lowest setting to avoid a breeze. Warm air trapped by the ceiling will push down. The air will circulate down to the floor where employees and products will feel the difference. The higher your ceilings are, the more warm air will be trapped high up. Running the fan in this direction will result in your building relying less on your heating unit. That saves you money on heating bills.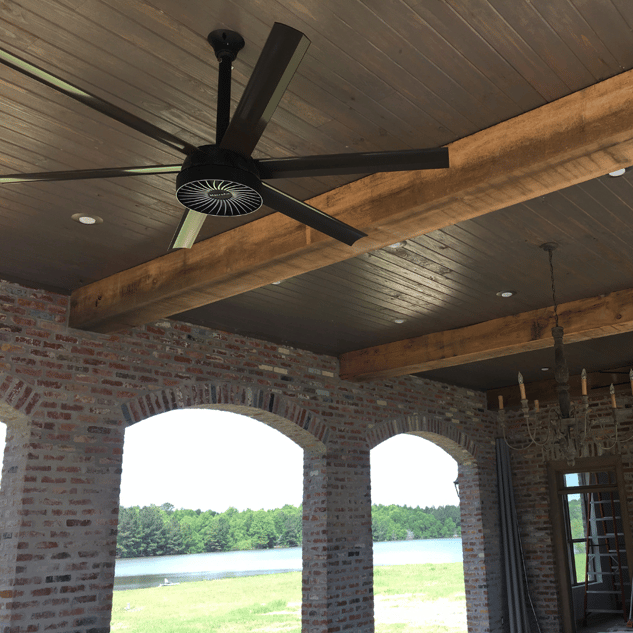 HVLS Ceiling Fan Types
Industrial Ceiling Fan
Best for maximum area coverage with a heavy-duty motor. Great for summer cooling and winter heat destratification. Great for warehouses and storage, manufacturing facilities, and any place where large areas need more airflow and circulation. Click to learn more about our industrial ceiling fans.
Commercial Ceiling Fans
Great for offices, classrooms, stores, and restaurants, as they are heavy-duty and can provide maximum heating and cooling supplementation. A good fit for ceilings 15 feet and below. Click to learn more about our commercial ceiling fans.
Agricultural Fans
For animal facilities such as dairy and horse barns, poultry buildings, and greenhouses, these ceiling fans can provide continuous use through the summer and winter as they are designed for harsh environments with sealed motors. Click to learn more about our agricultural fans.
Make sure your employees, customers, plants, and livestock stay cool in the summer. Change the ceiling fan direction for the summer at the proper time. You will notice the energy savings in your heating and air bills.
Residential Ceiling Fan
HVLS fans are not just for large industrial and commercial facilities. We may have started out exclusively offered in those arenas, but MacroAir fans have come a long way! Large ceiling fans are available in sizes 6-24 feet in diameter. They are also customizable in color and finish to accommodate your specific design style and needs. Additionally, they are perfect for indoor and outdoor spaces in your home. Click to learn more about our residential fans.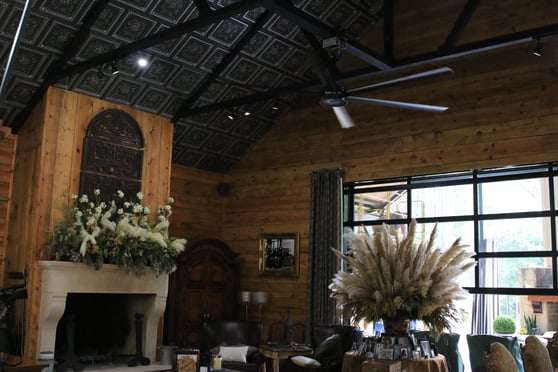 Turn it Around Today with the AVD370
Man oh man, have we got the perfect fan to move air beautifully! The MacroAir AVD370 is a stunning solution for any size space. Available in 6-12 ft diameters, it comes in two notable finishes that will make it stand out as an icon in any space. No matter the time of year, in forward or reverse, you'll feel the difference in your comfort level and see it in your energy costs! Click the link now to get your hands on an AVD370 today. Fans are available now with free domestic shipping.
Get the Matte Black AVD370 Today